With Alpine Glass being based in the heart of West Yorkshire, we have the ideal location to be able to install home improvement projects, such as Bi-fold doors, double glazing and conservatories, to properties in Harrogate, Leeds, York and many more.
Recently we had the pleasure of installing internal bi-fold doors in a property in Harrogate, North Yorkshire, to help increase the light in the kitchen and living room without taking up too much space.

Alpine Glass was recommended to us and we were really happy from start to finish with the job completed. Excellent advice was given for style of doors. Thrilled with finish and how it has improved light and space in our home.
Mr Ball
Harrogate
The customer, Mr Ball, approached Alpine Glass after being recommended to use our services. Mr Ball was extremely happy from start to finish and was especially impressed with our knowledge and expertise which were used to give the best advice for the type of product most suited to his property and needs.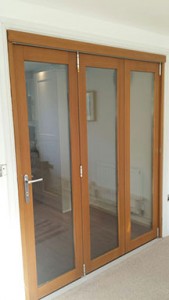 Oak coloured uPVC bi-fold doors
uPVC bi-fold doors are the perfect home improvement products for those who want to create an open, modern living space, while adding additional light. These were exactly the features Mr Ball was searching for, but he also liked the idea of having the option of an open space or two separate rooms, one of the many benefits of internal bi folding doors.
The bi-folds were coloured oak, to match with Mr Ball's interior design, however here at Alpine we offer a wide range of colours to choose from to suit your home.
Partition doors create an open-plan kitchen-diner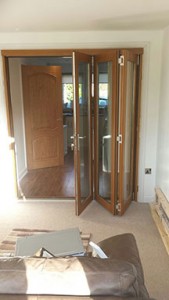 The bi-fold doors between the kitchen and the living room of the Harrogate property were selected due to their slim sightlines and their ability to open up a home with taking up very little space. Mr Ball loves how much brighter his home has become and how he is able to utilise the space available to him depending on if he wants an open space or two separate rooms. He is able to reduce noise throughout his home, without having to reduce the light in each room.
With our wide variety of panel configurations, our bi-folds can offer a range of benefits to a home, combined with our expertise we were able to select the most practical configuration for Mr Ball's home, allowing us to maximise the space available.
The installation
The installation was led by our installer Martin Thomson and his team, who delivered a high level of customer service throughout and left the property clean and tidy when the installation was finished. They are all FENSA registered and offer a 10 year Insurance Backed Guarantee with every single installation.
Find out more about our bi-fold door options as well as other home improvement products that could suit your home, by giving Alpine Glass a call on 01274 49 49 40 or by sending us an email. The opportunities are endless!