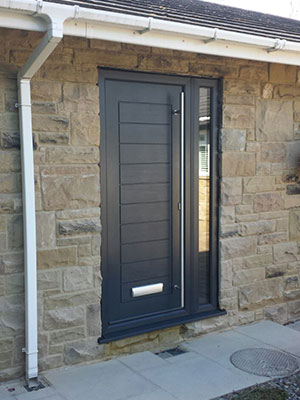 One of the most secure types of entrance door available on the UK market, the composite door has become a favourite with homeowners looking to improve the security of their property and protect their home from intruders.
A composite door is made from a combination of materials. Its hybrid construction is designed to use the best properties of each material to create an incredibly high performance door. Comprised of a solid timber frame, an energy efficient timber core, and a tough GRP outer skin, composite doors are incredibly strong. They can also make a home more soundproof, as well as insulated.
Security features of composite doors
Solid timber frameD Door construction
The overall security of a door rests on the quality of the door panel and frame it's supplied with. Composite doors are designed with this in mind. At Alpine, we use Solidor composite doors made from incredibly strong engineered timber, fitted within an energy efficient uPVC frame. Our composite door frames are available with 'dual rebates', a thicker frame with an extra groove, which adds even greater levels of durability and protection.
Multipoint locking
A multipoint locking system presents a formidable obstacle to even the most seasoned of intruders. Using a complex series of deadbolts, hook bolts and compression bolts, multipoint locking can help to boost the security of a property by making a composite door practically impenetrable to intruders.
Thick and durable timber core
Utilising a solid timber core, composite doors can stand up to concentrated and sustained attack from people attempting to break into a property. The type of timber core we use in our composite doors is incredibly durable and can absorb the shocks from blows and sustained assault without breaking. Enveloped in a tough GRP (Glass Reinforced Plastic) skin, our composite doors provide unrivalled security.
Secure composite doors installed in West Yorkshire
At Alpine Glass, we offer a variety of composite doors that can help to enhance the security of your home. If you'd like to get a quick quote for a composite, check out our unique, online composite door builder, where you can create your own personalised door and submit it to our quoting team. To find out more information about our composite doors, give us a call on 0800 043 8600 or email us.