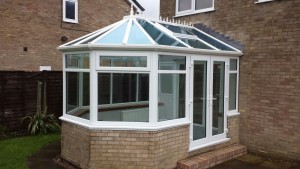 Late last year, Alpine Glass had the bespoke pleasure of renovating a returning couple's new extension, helping to transform the conservatory into a usable and inviting living space. The project involved replacing the conservatory's existing glass panels, with our team of installers also being tasked with replacing the polycarbonate roof with one that could more easily let light enter.
A returning couple, familiar with Alpine's service
Ash and his wife had already had work carried out on their previous property by Alpine's experienced team of fitters, and as such knew that their requested conservatory renovation was in safe hands. Ash and his family moved to the new property to allow his family more living space, and their new home's existing extension just wasn't up to snuff.
When combined with energy efficient glazing, such as that used within this project, Alpine Glass' conservatories are easily suitable to be used 365 days a year as opposed to just spring or summer. No longer will this family space be subject to extreme heat in the summer or unbearable cold in the winter, remaining comfortable whenever it's in use.
Renovated frame, roof and glazing for modern-style extension
As well as the installation of new energy efficient glazing, the renovation project also required the team to fit a new glass roof which would improve upon the extension's previous outdated polycarbonate alternative. Glass roofs in general are more resistant to harsh weather, increasing the lifespan of many conservatories substantially.
The overall look of Ash's newly inherited conservatory was significantly improved following Alpine's renovations, largely thanks to their decision to replace the frame with more modern uPVC profile. Our team was able to complete the job with as little interruption as possible, ensuring that the customer's needs were always met as swiftly and efficiently as possible.
A stress-free process that left the residents satisfied
Ash
West Yorkshire
We are old friends of Alpine Glass and when we moved property my family needed an extra living space. The old existing conservatory was unusable so we got them in to bring it to life. The guys (and lady) did all the hard work, design in bringing the project together, taking all the stress away from myself and wife – thank you!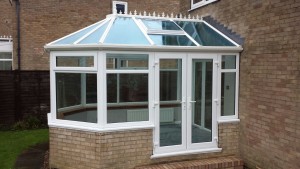 Alpine Glass: Home improvement specialists since 2006
Ash rated Alpine Glass 10/10 with regards to the quality of the finish, customer service he received and the amount of information he was given throughout. He went so far as to say that the specific service supplied by Alpine helped to; "take the stress away", receiving as great a service as his last installation.
A friendly, family-run conservatory installer, Alpine Glass have helped improve thousands of homes all over West Yorkshire and its surrounding areas. To find out more about how we can breathe life back into your conservatory, please get in contact with us on 0800 043 8600 or contact us online.
Customer service
Overall service from start to finish
Quality of overall finish