Bridging the gap between conservatory and orangery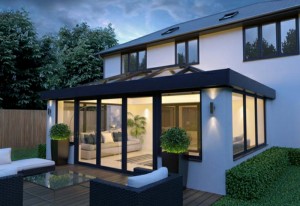 When looking for a way to perfectly finish off a desired home improvement project, for most homeowners, adding a bespoke an extension is the ideal method. With so many modern choices and styles to choose from, it's easy to forget the more obscure options. For homeowners looking for a contemporary conservatory or orangery that will add both style and value to the home, a Sky Room from Alpine Glass is sure to tick all the boxes.
Minimalist modern design, in keeping with any home's current visuals
Undoubtedly one of the finest contemporary looking home extension products, Sky Rooms blur the lines between conventional orangery and conservatories to form a minimal design that easily can suit most homes. Featuring sleek visuals with a neatly glazed roof, Sky Rooms from Alpine do away with bulky exterior features, instead opting for an ultra slim frame with sharp sightlines outstanding strength and visible elegance.
Every Sky Room's roof ridge is 70% slimmer than other leading extension options, still using firm supports that makes for some very generous headroom and no intrusion into the room. Unlike any other roof extension system, Alpine's range of Sky Room orangeries have no unsightly rod tie bars or low supports cluttering the roof. Less is always defiantly more with the minimalist design of a Sky Room.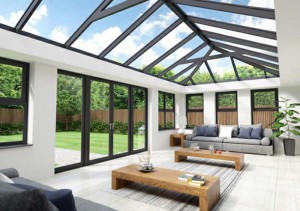 Useable 365 days a year thanks to incredible thermal efficiency
Whether building a new living space or upgrading your existing conservatory, the simple addition of a Sky Room helps bring a more natural atmosphere into any room in which they are installed, rendering it inviting all year round. This is largely thanks the incredibly efficient glazing used within the roof's structure which always ensures that the space stays warmer in winter and cooler in the summer.
There's nothing worse than an extension that gets too hot in the summer or too cold in the winter, thankfully every Sky Room roof boasts a U Value of 1.5 to provide exceptional thermal efficiency for the homeowner. This not only impacts the comfortability of your extension but also its financial cost, leaving you less inclined to turn on your central heating when a chill creeps in.
Luxurious interiors to form a natural part of the home
Sometimes when having a new extension installed onto your home, there's a danger of it sticking out like a sore thumb. Not with a bespoke Sky Room installed by Alpine Glass! Constructed using solid pillars and energy efficient glazing, the inside of your new living space will always appear inviting and cosy both to you and any potential guests who visit.
The 300mm high aluminium fascia further helps to bring the homely feel of a conventional orangery, especially when combined with a raised ring beam between the internal pelmet and the roof. Homeowners will be astounded by the final finish of the Sky Room décor.
Fantastic new living space installations from Alpine
Alpine Glass have been improving homes throughout West Yorkshire for well over 10 years, building up a local reputation that helps homeowners buy with confidence when choosing to upgrade their home with a product such as the Sky Room. For more information on how our expert team of installers can help add value to your home call us for free on 0800 043 8600 or get in touch online.